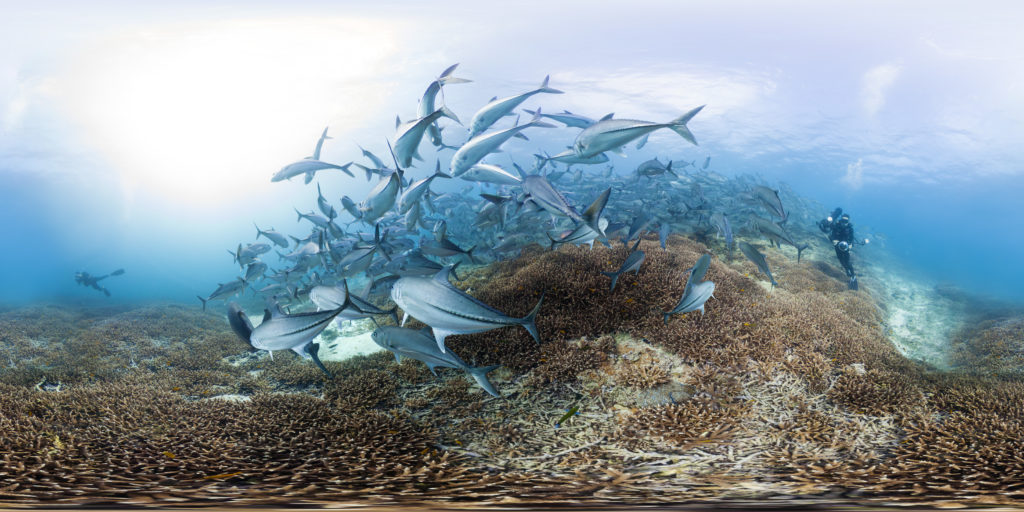 Another wonderful and record breaking year for the Hot Docs Canadian International Documentary Film Festival has wrapped up and it is quite sad that were going to have wait another year for some excellent documentaries to be screened once again.  Hot Docs in 2017 selected 228 documentary films and we here at FERNTV wanted to give you the inside scoop of the documentaries that we were able to watch and fell completely in love with.  Our Top 10 list begins with the documentary Chasing Coral by Jeff Orlowski who returns to Hot Docs after winning the Audience Award several years ago with Chasing Ice.  This documentary is quite the cinematic experience as you watch deep sea divers, photographers and scientists go on a global adventure to document how some of the greatest coral reefs in the world are slowly but surely dying.   Chasing Coral is a call for action that we need to address this issue right here and right now.
Director Karin Jurschick puts together this wonderful biopic of a lawyer by the name of Ken Feinberg who might have one of the toughest jobs in  America.  Playing God focuses on this man who has to figure out the value of a person (deceased or not) when they have been affected through a major catastrophe such as 9/11, or the BP oil spill or the effects of Agent Orange in the Vietnam war.  This film gets to the heart of the matter really quickly but as you can see in Playing God that Ken Feinberg is just trying to do the right thing to allocate the proper value amount to those who are suffering.  All day he hears everyone's sob story but not all the time is justice served which just goes to show that sometimes the system is not there to help everyone out.
A Better Man completely went above and beyond of what a documentary is supposed to be and all the respect in the world has to goto director Attiya Khan for putting this important film together.  Domestic violence is no doubt a sensitive issue but Attiya shows so much courage in this film in getting together with her former abusive boyfriend.  There are so many heavy moments in this film but it is quite the groundbreaking experience to see these two recollect their experiences which becomes gratifying to the audience.  The importance of A Better Man is that the documentary should be used as a tool to help those women who are or were in situations where they experienced domestic abuse.  Attiya Khan wants to let these women know that they can stop domestic abuse and not have it continue any further than it has to.
Watching the documentary Ramen Heads was enjoyable for most filmgoers and foodies.  The documentary shows the expertise of Chef Tomita, who is the Ramen King of Tokyo, and what exactly goes into making his popular ramen.  The film follows Chef Tomita in his everyday preparation from the time his little restaurant opens to when his apprentices leave after a deep cleaning.  The documentary was that much better when we were able to watch Chef Tomita cook some ramen and bao buns filled with pork and mushrooms at the popular Momofuku in the Shangri-La Hotel in Toronto.  Ramen Heads was one of the food documentaries that premiered at Hot Docs that gives you a greater appreciation of what goes into the ramen dish.  Gordon Ramsey will be having a look at this.
Director Jin Jeo and Chang Yong Moon took nine years to put together their documentary Becoming Who I Was but all of that time paid off.  This wonderful film follows a young Ladakhi boy named Padmu who discovers that he has been a reincarnated highest Tibetan monk and must find his past life and the monastery he belongs to in Tibet.  With the help of his aging uncle, Padmu goes on a wonderful journey where we see a world that is not too known here in the Western World.  The cinematography is top notch in this film and we see all the sacrifices that both Jin Jeo and Chang Yong Moon had gone through in putting this documentary together.  It is the charming nature of Padmu that carries the film to great heights as the audience learns to love him throughout the course of the film.
You might wonder why director Egil Håskjold Larsen won the Emerging International Filmmaker Award at Hot Docs this year for his documentary 69 Minutes of 86 Days but the second this film starts you will consider it life changing and groundbreaking.  69 Minutes of 86 Days follows a Syrian family trying to escape the horrors of war by trying to get to Sweden from a port in Greece to start a new life.  This experimental documentary gets to the level of three year old Lean who carries the film let alone her family through a tiring journey that has the family go through every mode of transportation to get to their point of destination.  It is important to get on her level because Lean represents hope for her family and humanity.  With her "Frozen" backpack in check, 69 Minutes of 86 Days is the real Amazing Race that takes place in life and the prize is life.
Emerging Canadian director Sofia Bohdanowicz brings the documentary Maison du Bonheur to the silver screen and is one of the most charming films presented at Hot Docs this year.  The films follows Sofia to Paris who wants to document the life of a 77-year old astrologer Julianne Sellam.  The audience begins to like Julianne right away at the beginning of the film as she starts to talk about how important her coffee is to her in the morning.  Maison du Bonheur is a well crafted film that follows the everyday lifestyle of this well known astrologer in Paris and how important all her rituals are to her. The documentary takes you back to the classical form of documentary filmmaking which reminds you of National Film Board classics.  Documentaries like these are always needed to show you the true art form of documentary filmmaking and that sometimes keeping it simple always does the trick.
What Lies Upstream truly delivers the message that director Cullen Hoback is trying to get across when it comes to the drinking water in America.  In this detective story, Cullen Hoback investigates the drinking water in West Virgina in which 300,000 people are affected by chemicals released by nearby chemical companies.  The keyword in this movie is "smell" and the drinking water does not smell good for these people along with other bad smells that is going on when it comes all the levels of government and their hidden agendas.  As the film progresses, you begin to see that a lot of people in power are covering up this mess and that there is nobody to blame.  The issue starts to become worse as Cullen Hoback looks into what may become one of the biggest issues that will arise in America in years to come.
Shingal, Where Are You? has to be one of the most heartbreaking and emotional documentaries at this year's slate at Hot Docs.  The film focuses on a religious minority group, Yazidis,  who are driven away from their land in Iraq by ISIS who put them through a brutal genocide and the kidnapping of their daughters and children.  One particular family that is followed by director Angelos Rallis attempts to ransom their kidnapped daughter from the slave camps.  There are powerful scenes and imagery in this documentary and slowly but surely the film shows you how war in the present day is horrifying as hell and what is happening in the Middle East is real.  Shingal, Where are You? is a humbling documentary that makes you think that life is not too bad after all.
Last but not least, we here on FERNTV really loved the film Ukiyo-E Heroes by director Toru Tokkikawa where we see Canadian woodblock printmaker David Bull who now resides in Japan team up with up and coming designer/illustrator Jed Henry from the US.  They both combine their efforts to mix video game heroes with Japanese woodblock printing and we see the exhilarating process that these two have to go through to get one print established.  We also go on journeys with David Bull who must see exclusive individuals for certain instruments for his art.  For those who are into fine art, Ukiyo-E Heroes is one of those films that makes you think to "Trust the Process" and that could not be more evident that in this film.