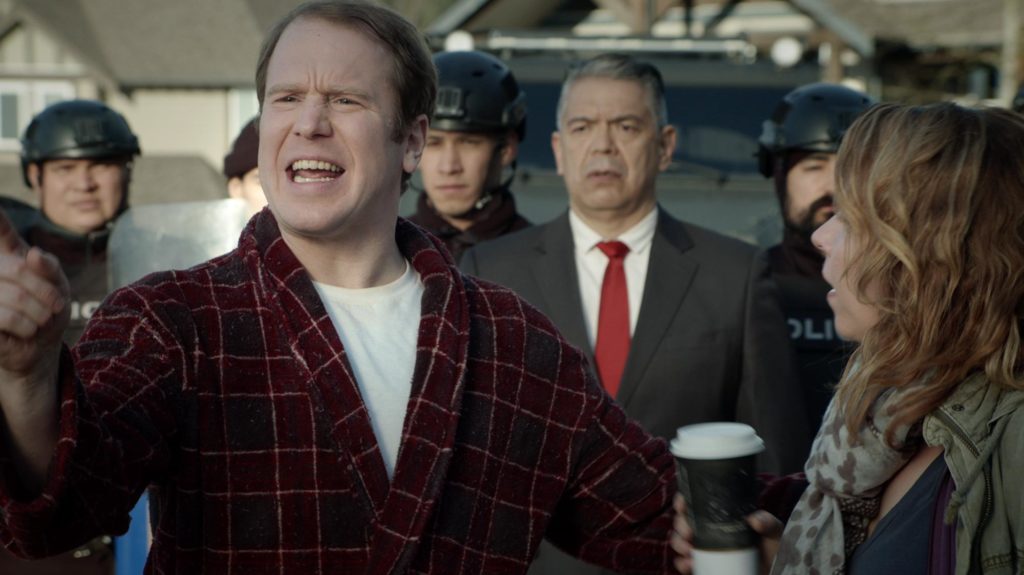 Over the years, there has been amazing films that come out of the Reelworld Film Festival that fits its mission.  This year we were quite impressed here on FERNTV with the short film No Reservations by director Trevor Carroll because of its comedic poke on the Dakota Pipeline construction.  Rather than having the film focus on the oppression of indigenous cultures through corporate interests, No Reservations turns the tables around where those interests lie in affluent societies.  Director Trevor Carroll makes light of the situation at hand but the message does get across to the audience rather quickly by having them wear the other shoe and see if it fits.  The shoe seems to fit awkawardly but Trevor Carroll raises the conversation of why should it be so awkward if the roles are reversed?  FERNTV spoke to director Trevor Carroll about the relevance of No Reservations.
FERNTV:  When did you feel that it was time to make a film that commented on the Dakota Pipeline construction? Tell us briefly the story behind that?
Trevor:  I feel that over the past few years, Indigenous people have been making small steps in getting more recognition for our culture and values. Movements like Idle No More and No DAPL have been at the forefront. The Dakota Access Pipeline was a very hot topic – on the tip of people's tongues – but there was a lack of front page news and media behind what they were trying to accomplish. This came at an opportune time for myself as I was prepping for the Crazy8s Film Event, and the two things meshed perfectly. I had an opportunity to tell the Indigenous story with a twist that would reach an broad audience with a subject that struck a cord with a lot of people.
FERNTV:   You took the comedic route when doing this film. Why did you do it this way and do you feel that the message will get across to your viewers much more easier?
Trevor:  I knew just from reading blogs, message boards and small news articles that there were really heated discussions from both sides of the coin, but I found one to not be as open minded as the other. From what I had seen in the news and what was being portrayed in terms of the violence and intensity of the subject, I knew the approach had to be done in a different way; there are comedic elements to the subject but it wasn't all slapstick comedy. The approach we took definitely had a different take and I think if people viewed it more then once, they'll catch on to some of the clever subtleties that we included.
FERNTV: Â Tell us about one story behind the casting process that stands out to you because it looks like your cast have worked with each other before?
Trevor:  Most people aren't aware that I'm a part owner of a casting studio in Vancouver, so I have access to all of the top actors in Vancouver. A lot of the cast I hand picked because I wanted to work with them, including Lorne Cardinal. I think it made things easier for us because we were familiar with each other from the audition room and I think it showed because we had a lot of fun making this project.
FERNTV: Â Do you feel this film does justice in showing what is going on with indigenous people when it comes to situations like the Dakota Pipeline?
Trevor:  I don't know if the film is the answer to the plight of Indigenous people; the goal of the film wasn't to take a firm stance on the subject, but to open the door for discussion between people as to what is happening on both sides of the coin. What I can say is that opening people's minds to the possibility of change or acceptance that maybe one side has been treated unfairly by using subversion was a goal that I think was accomplished.
FERNTV: Â Â What are your thoughts on the Dakota Pipeline incident?
Trevor:  In my opinion the DAPL is a tiny ripple in the water of what the Indigenous people of North America have felt over the last 600 years. I wonder if in the next 10 to 15 years, we'll be able to look back at that region and see if it hasn't been completely ruined by an inevitable leak and point the finger of blame back to ourselves. The human need for fossil fuels is a puzzle that hasn't been solved yet, and I'm hoping that collectively we can come up with a better solution for our planet before we ruin something that doesn't belong to us.
FERNTV: Â What do you like most about this No Reservations?
Trevor:  The team working together on this project was amazing. I had a really large group of people that we worked with this film, and everyone contributed an amazing amount of work to making this. So proud of everyone's accomplishments as a team.
FERNTV: Â Â Describe the future of indigenous filmmakers?
Trevor:  Indigenous film is beginning to take shape into a living entity. I've seen a huge push in telling Indigenous stories over the last few years and really feel that there will be a lot of great storytellers in the next decade.
FERNTV: Â Â What does it feel like to be part of Reelworld Film Festival this year?
Trevor:  Being a part of the Reelworld Film Festival has been a great honour. They gave me a really exceptional acceptance letter and put us in the program with the closing film of the festival, which I feel is a really great honour. I know the final film, In Jesus' Name, is an exceptional piece of filmmaking, and I feel really grateful to be amongst so many talented films this year.\
www.norezmovie.ca