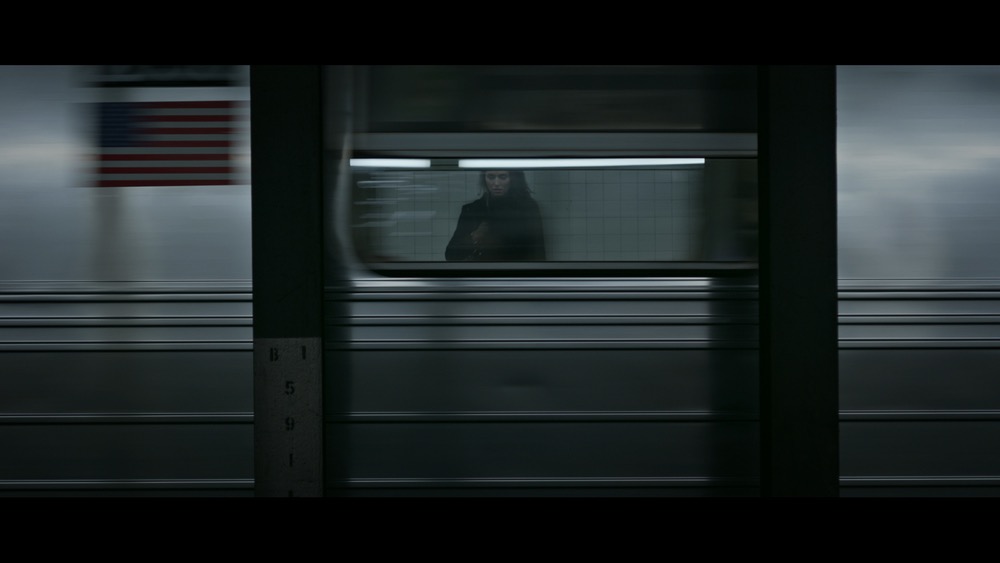 We realize here on FERNTV that its Halloween and there are many things that scare us during this time of year such as vampires, ghosts, werewolves and monsters.  Nothing scares us more than the very thing that is killing many of us in our everyday struggle in this dog eat dog world.   Anxiety has become prominent in our daily lives and in our everyday conversations and much like depression, it is something that we don't want to deal with at all.  The short film The Push directed by Will Joines has been buzzing this Halloween season and the horror circuit because of its true reflection of what it means to be in a state of anxiety.  Trieste Kelly Dunn stars in this dazzling film as a victim of anxiety after she witnesses someone pushed into a subway.  What is most outstanding about this film is the cinematography and the visuals to capture what it is really like to witness a life changing event.  FERNTV spoke to director Will Joines as to why it was important to sustain the quality of filmmaking done in the subways of NYC where many great films have been shot.
FERNTV:  First of all, where did the premise of the film come about?
Will:  I've had a slow-burning anxiety about the Subway ever since I moved to NYC ten years ago.  Then, a couple of years ago, a mentally-unstable man randomly pushed someone in front of an approaching train, and it was all over the news.  Suddenly, that anxiety became fast-burning.  I began to look over my shoulder while waiting on the train, and often stepped back behind the safety strip on the platform.  That growing unease transformed the most innocuous events—taking the train, riding the escalator—into foreboding experiences, and I knew I wanted to make a film about that phenomenon.
FERNTV:  What is it like to have your hands on doing a film in the subways of NYC where many iconic films such as The Warriors, Ghost, Devil's Advocate, Carlito's Way and most recently Shame have the memorable scenes in this mode of transportation.  How did you get it up to that level?
Will:  Research-research-research.  I went to every single metro station in the five boroughs to find what, I felt, were the most ideal locations for each scene.  More importantly, I tried to find locations and images that matched the psychological state of the protagonist. Beyond that, it was mainly just being bold and shooting wherever we liked.  We were occasionally stopped by Police, but 100% of the time when we described what we were doing, they simply seemed interested and told us to be careful and carry on.  Technical note: as long as you don't have a tripod or lighting gear you can apparently have people running up and down the platforms screaming, and New Yorkers won't pay you much mind.
FERNTV:  Tell us about the cinematography in your film and what it is like to work with your cinematographer Zoë White?
Will:  Zoë is my long-time collaborator.  After doing innumerable music videos together, we've developed a certain short-hand for when we're on set.  We scouted extensively before the shoot and did a few rough storyboards to make sure we were lockstep before descending into the various stations in which we filmed.  When selecting angles, we paid close attention to the protagonist's increasingly anxious point of view, and tried to underscore that emotional descent visually.  Likewise, the camera work became more and more frenetic as the heroine became more and more unhinged.
Besides Zoe's excellent work on set, the color grade was really key to giving the film the dark, forboding look I was after.
FERNTV:  Briefly explain the casting process for the lead role in the film and what was Trieste Kelly Dunn that made her win the role?
Will:  Much like Zoë, I've known Trieste for a long time.  She's also an alumnus of the University of North Carolina School of the Arts, so the casting process was extremely easy.  We wrote it with Trieste in mind, and then were obviously thrilled when she liked it and was willing to spend a few weekends with me running up and down subway
FERNTV:  Can you explain why there is such a demand for short horror films in film festivals than ever before and how you can portray so much in such a small period of time?
Will:  I think a short film can either be built from a single scene / turning point or it can be structured more as a complete narrative.  A complete narrative can be tricky as it can feel like too much is packed into a short format, and that it would be better served by the feature format.  I think horror works well in a short film, because you can generate those emotions quickly, effectively and realistically without making the audience feel jerked around.  We trimmed in the edit until we felt we were leaving in only the moments we needed to get a feeling for the character's starting point before focusing on her descent in the body of the film.
FERNTV:  You have attended the screenwriter's lab in Sundance.  Can you tell us what sticks out in your mind about this experience?
Will:  The Sundance Lab is ground-zero for imposter's syndrome as you're surrounded by such incredibly smart, talented and successful people.  That said, it was a wonderful experience for my writing partner and me.  We got great input and guidance on the feature script we're developing (entitled DUST) and it was actually the Lab that encouraged me to make something more narrative (as opposed to music videos) during the lead-up to the feature film.
FERNTV:  Can you comment on anxiety and do you feel that most people who live in urban areas experience this the most?
Will:  Coming from a rural area in the South, I was probably going to be nervous in NYC no matter what, but I've been prone to anxiety my whole life.  I could theorize for hours/days about why, but I think something about the incessant pace of New York—the very thing that makes it so exciting and attractive—can also generate a fair amount of anxiety.  That and the subway can be a shrieking hellscape of sound!
FERNTV:  In what film is your favourite subway scene and why?
Will:  I'm going to go with JACOB'S LADDER because it portrays the subway in such a beautifully macabre way, and THE FRENCH CONNECTION, because it's got this incredible energy and sense of play.