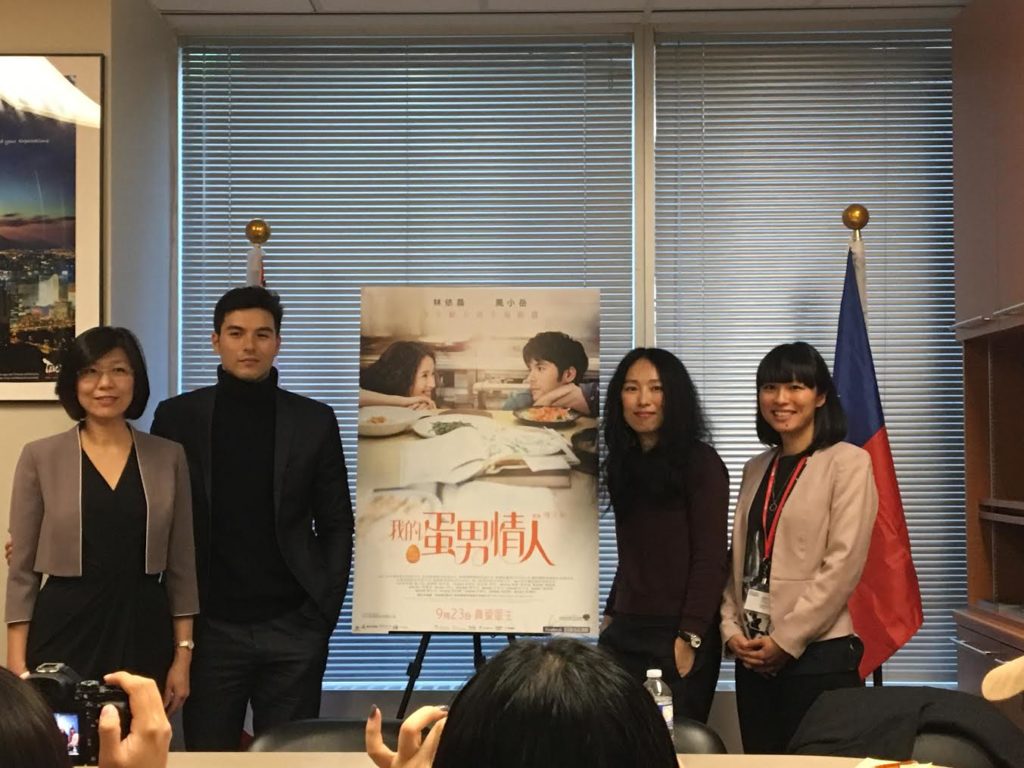 My Egg Boy, a Taiwanese film that was recently screened at Toronto's ReelAsian Film Festival, is a heartwarming story about a modern woman who freezes her eggs to preserve her child-bearing abilities, and the love she finds along the way.   FERNTV was fortunate enough to attend the press conference for My Egg Boy, where the writer-director, Fu Tien-Yu, and the film's male lead, Rhydian Vaughan, answered some questions from some of the attendees.  
**Disclaimer: Due to the nature of the press conference, as well as the need for a translator, some of the dialogue has been edited for clarity purposes.
What do you hope Toronto audiences will get out of this film?
Fu Tien-Yu: This is my first time in Toronto, which I am very excited about. To me, this movie is the story of a modern woman trying to find love in an urban city. As Toronto is also an urban city, I'm curious to see if Toronto audiences will find the story to be a universal one, something that speaks to all modern women and men. I'd like to know if they have the same struggles in finding love.
(at this point, someone yells out "yes!" and everyone laughs)
Rhydian: We live in such a vast world where we need to process everything. When I go to bed at the end of the day, I think about all that I've done or sometimes I forget about half of them, its sort of overwhelming. This film is more about love and passion for life. It seems to me that the simplest things tend to make us happy. My character is a chef. I hope whoever watches this film can feel a little bit of that, and can learn a little about Taiwan, as well as Sweden and Iceland.
What was it like to film in many diverse locations outside of Taiwan, especially in the winter months in colder climates like in Sweden and Iceland?
Fu Tien-Yu: I wanted to shoot the film in colder places so that the frozen egg locations could become a reality—to visualize them in a realistic way. It was very humbling to bring a Taiwanese crew—a crew that usually works in a warm, tropical climate—into these harsh, snowy places. It was an unforgettable experience. This was the first Chinese-language film to shoot in these locations, and it was an interesting experience trying to use the machines in cold weather, and not letting them get too cold to function. It was very hard for the actors and actresses to stay warm—we had to get them warm bags so that they would not freeze in a climate they were unused to.  
Why did you choose Northern Europe instead of Canada for the colder location?
Fu Tien-Yu: In pre-production we had talked about wanting to shoot the colder scenes in Japan or Northern China, but I decided that I wanted to shoot them in Northern Europe instead because of its interesting visual style. It was very important for me to get these scenes right, since they symbolize the origin of life, and I felt that Europe was the best setting for this. As for why I did not want to shoot in Canada, it is a more familiar place to many Taiwanese people, and I wanted to choose something more foreign and unknown.
Why did you come up with the frozen metaphor?
Fu Tien-Yu: The invention of freezing technologies is a very important invention for modern society. These technologies are able to solves issues related to food preservation, which can help hunger-related issues, as well as helping solve reproduction issues—both of which were scene in the movie. I wanted to make the connection between these two technologies and how they are able to help bring love into the world. Freezing technology is able to preserve love, both in the form of frozen food left over from a mother, and in frozen eggs giving the ability to have children later in life. As well, I wanted the protagonist to be melted slightly from her "frozen" personality, which is why I had her fall in love with a chef who prefers fresh food.
Why did Rhydian choose to work on this movie?
Rhydian: I like to take my time when choosing a movie to work on, and I decided to do this film after researching the urban farming industry, as well as into what it takes to be a chef. I feel that it is very important for women to have a space to show their talents. Even though this film is a romantic comedy, we wanted to bring more into the genre than the standard stuff, making it more than a typical romantic comedy with a typical protagonist. It is a film about the origins of life.
What is the message of this film?
Fu Tien-Yu: Women are more fortunate now than they were in previous generations because there are more ways for us to define happiness. It is no longer defined as getting married and having children. Now, women are able to decide what they want to do with their lives, and have more freedom. It can still be hard for women today, but there are more options than just having children to be happy. We are also fortunate to have these technologies that make our lives and choices easier. However, I believe that the notion of looking for love and wanting to be loved is something universal and will never change, and that is what I want audiences to take from this film.