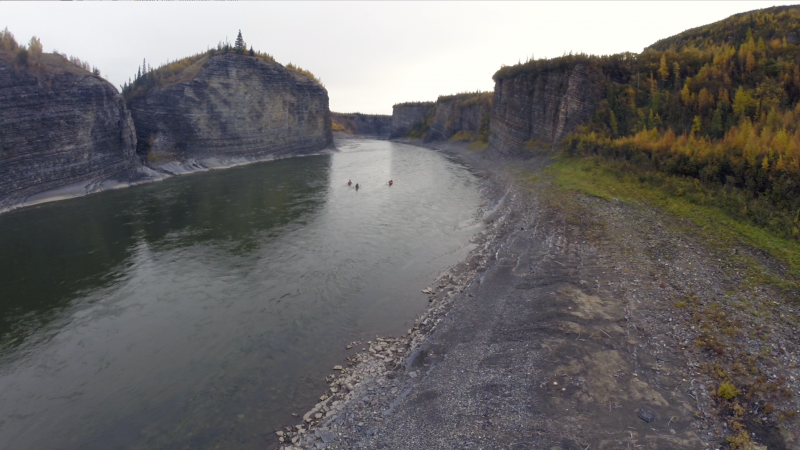 There is a lot that goes into making a documentary from many different people who possess many different skill sets.  The people who are behind the camera are just as important as the people in front of the camera in the documentary The Peel Project.  This holds true for the film that will be screening on opening night of the Water Docs Festival in Toronto.  The much anticipated documentary follows the plan of co-director Calder Cheverie's 20 day canoe trip along the Peel Watershed in the Yukon.   Six artists were chosen from each different artistic medium spanning from different cities across Canada who have never been exposed to this type of wilderness.   The documentary is a true testament of how Canadian art and film is developed in a landscape that allows these artists to grow because of its mystery and vibrancy.   The Peel Project helps the audience understand the identity of Canada further and raises awareness to become involved in stopping the corporate development of one of the last Arctic watersheds.  There is much in this Yukon ecosystem that can be disrupted which ranges from the environment, to the wildlife and the community.   FERNTV spoke to filmmaker Caled Cheverie about the process of putting The Peel Project together in effort to sustain the watershed before it is too late.
FERNTV:  What inspired you to do this project?
Calder:  For several years before this project I had been dreaming of taking a group of artists out on a staunchly "Canadian" trip, but at that time it was just for the personal pleasure of being able to watch my artistic friends create while out in the wilderness. And hopefully they would create work inspired by what they were seeing and where they were. I reached out to a group of my friends but we couldn't make it work, and so the idea sat on the shelf. When I paddled the Peel River watershed a few years later, it struck me so deeply—both the uniqueness of the landscape and the vibrant, incredible people I was meeting—that by the end of the trip I thought, "If I ever do that project, it has to be here." Two years later, we were putting out a call for artists, and it took on a new mission:  to help broaden an understanding of Canadian identity by using art and film as a means of highlighting the landscape and vibrant communities of a region that most Canadian's probably didn't know existed.
FERNTV:  How did you select the six artists for The Peel Project?
Calder:  The artists were selected from applications received through a 'call for artists' ​that went out online. We relied heavily on social media to help spread the word, as well as arts blogs, outdoor adventure & nature conservation groups, etc. who offered to help extend the reach of the artist call. Once applications started to come in, we knew we had a certain set of criteria to meet: We wanted gender balance across the artists—3 men & 3 women; each artist had to represent a different artistic medium; at least 1 artist of First Nations heritage; and all had to be living and working in urban centres across southern Canada with limited-to-no experience of northern communities and wilderness.
FERNTV:  Out of the six artists, which one of them did you relate to the most or did you feel you related to them all equally.
Calder:  For me, I felt torn between wanting to connect and not being able to. Being behind the camera put me in a position where my connection to the artists was purely story-based. For the film, I wanted to know where each person was coming from, what their struggles were, what brought them here and why. But as a long-time guide and generally warm person, I wanted to support them through this journey and to connect with them on a personal level, but the camera wouldn't let me. It created a divide that became difficult to navigate. It's hard watching someone struggle with the realities of trip and knowing that not only can you not help them, but you have to hold the camera up and capture it on film.
FERNTV:  Can you comment on planning out the trip before you started filming and how you were familiar with The Peel Watershed.
Calder:  The inspiration for the film came from a personal paddling trip through the Peel River watershed in 2011. It was on this trip that I became familiar with the legal issues surrounding the Peel and the long-term fight to protect the region from over-development and uphold original land & treaty rights in the watershed. It took two years to find myself in a place where I could step away to begin organizing the project, but in the fall of 2013 I reached out to Anthony Wallace—a music composer and long time friend—for help. By January the two of us put out the call for artists and as that process was underway we began digging in to the logistics of how to make this happen. As an experienced guide and someone who had paddled it before, I took on the organizational details of the trip—planning the river route, food preparation, the hiring of a local guide & field nurse, putting together our safety equipment and building a support crew—while Anthony began connecting with organizations that may want to support the project and determining the technical equipment we would need to successfully film the trip—cameras, sound& audio, waterproof storage, etc. While the organizing of those two elements were underway we began selecting artists, applying for grants & preparing for an Indiegogo campaign to raise money for the project.
FERNTV:  Do you think that we will ever learn from The Tar Sands or the fracking in Vancouver etc.
Calder:  In short, yes. But because government is the strongest institution we have to affect the long-term health of communities and wild spaces, I believe that the "learning" is on their part, and it happens only when the myriad of voices coming from groups that stand in opposition to projects like the oil sands become distilled into a common sentiment which happens over time, and that sentiment becomes a message that has enough clarity and critical mass to affect policy.
However, I also believe that that policy will never appease everyone and it will not be enough to immediately stop the destruction of wild-spaces in the way that many people may want, but that's not how this works. The ship doesn't turn all at once, it moves by degrees; it is slow and it is frustrating, and it may never keep pace with the voice of public opinion. But that is why we have art.
FERNTV:  What was challenging about filming The Peel Project?
Calder:  The conditions of filming caused the most challenge during The Peel Project. We were a crew of 12—two scientists conducting field research, 2 cameramen, a guide, a nurse and 6 artists. We left to paddle the Peel in September in order to coincide with the moose hunting season and to cross paths with a hunting trip being planned by the Gwich'in people of Ft. McPherson. This meant, however, that temperatures were dropping below zero at night time, we were on constant lookout for bears, and navigating and portaging rapids up to class 4, while at the same time trying to allow space for everyone's needs to be met—time for the artists to rest and make work; time for the scientists to conduct their research; and time for the film crew to do interviews and gather the shots they needed while working around the weather. Camera batteries would die in the cold, lenses would fog up, and people became exhausted trying to balance their emotions and physical needs alongside their tasks. By the time we met Ernest, Alice, Margaret & Kirk—a Gwich'in family out hunting who invited us back to their camp—just laying on the ground inside their cabin next to a stove felt like heaven.
FERNTV:  How do you feel about growing as an artist after taking this trip and finishing this film?

Calder:  The growth this project has given the artist keeps evolving and as time passes I realize more and more the value of the experience and project as whole. As a film maker and a musician, the well of material to fuel creative endeavours is enormous. I created a music album in reaction to this trip, a feature film and continue to produce works inspired by it. But more importantly as an artist I have tapped into current issues and can use work to create a discourse on issues Canada is facing. The Peel Project has given substance and relevance to my creative endeavours and allowed it be part of a larger conversation. As a musician/ sound artist it has also allowed me to explore more wilderness installations ideas that I have continued pursuing and hope to build upon.
www.thepeel.ca