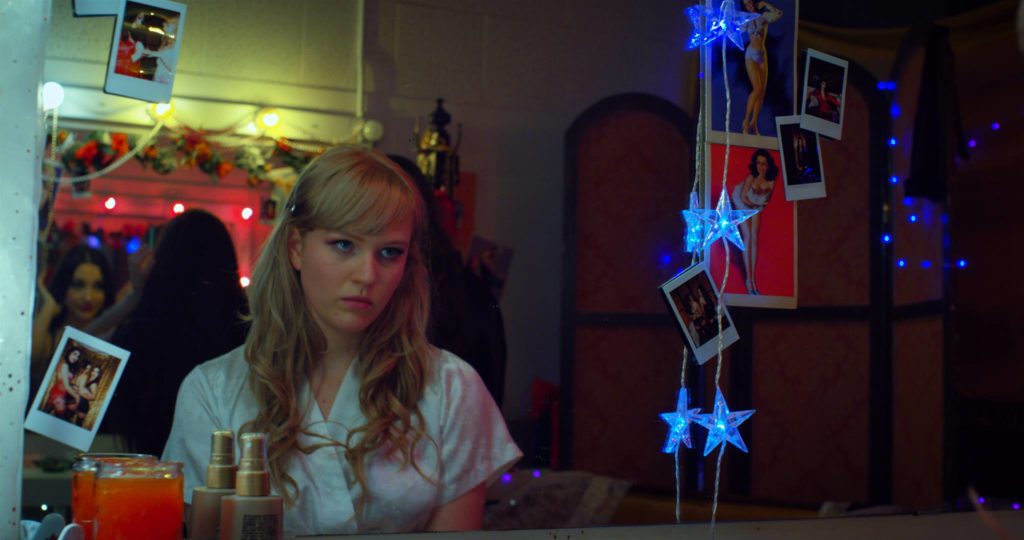 It's that time of the year where one of our favourite film festival takes place in Toronto where we can take a look at some of the best up and coming talent when it comes to the Canadian horror film industry.  The Blood in the Snow Film Festival every year delivers a fabulous lineup of films where we can experience and view talent such as director Dionne Copland who brings her short horror film Inferno from UBC.   Already having been screened throughout many film festivals throughout the world, Inferno is the latest instalment of Dionne's Copland's already impressive resume of films that she has directed.  The film focuses on a new dancer by the name of Bambi, played by Lee Booker, who tries to fit in with the rest of the dancers in a club called Inferno on her first night.  She would then cross paths with Jason, played by Dallas Petersen, who on his 18th birthday chooses to celebrate at the same club on the same night with the help of some experienced friends. We spoke to the co-founder of the CinemaFantastique Film Festival in Vancouver and CyberCraft Video Productions, Dionne Copland, of how Inferno came about which is about to heat up things at Blood in the Snow because you know what?  It's that HOT!
FERNTV:  Tell us here on FERNTV where did this unique story come from?
Dionne:   The story came out of my personal love for witches; I myself practice witchcraft and find a lot of spiritual growth and meaning from it. It's very different than the movie version portrayed here, of course, but I have always been obsessed with witch films. I also took a lot of inspiration from the gorgeous production design in Verhoeven's Showgirls, I'm a huge fan of that film, despite its critical acceptance.
FERNTV:  As we were watching the film, the sound made viewers feel like they are in a dreamy state.  Can you comment on the sound design of the film?
Dionne:   The sound design was the work of the very talented Graham Trudeau, who has worked with Turner and myself on nearly all of our previous work. I wanted a dreamy score, something that would subdue the audience into a false sense of security, something seductive, and Graham ran with it and created something really special.
FERNTV:  Tell us about the casting process and how you were able to get the right actresses into the role?
Dionne:   I LOVE CASTING! It's my absolute favourite part of filmmaking and actors are so great, I love seeing people audition. We ran quite a few auditions and both Angela Way (Amber) and Katie Hayashida (River) were the first two people to come in and immediately they knocked it out of the park, their personalities fit so well to the characters and I was ecstatic. Making this in film school created it's own challenges such as finding a great actress willing to do topless nudity for the role of Bambi (which we never wanted to play as exploitive, more as part of the world) and Lee Booker showed up very late in the audition process and had worked with Turner and our friend Danny on a previous film and was open to everything on top of being a great talent. We had three guys come in that were so fun in their solo auditions that we had them all read together during callbacks and the chemistry was so incredible that we cast Evan Gilmore, Alex Lowe, and Riaan Smit as a trio. Dallas Petersen who plays Jason was encouraged to come to our audition by his girlfriend because he fit the role so well in real life and actually we had someone else in mind until he came in and just KILLED it with his read through with Lee. Stef Bartlett, who was also a student in our film program, came on board as Lady Inferno at short notice, which was awesome, and Tess Paul, the producer, also made a cameo as Suzy the bartender. The casting was great and I am so honored to have worked with all of them.  
FERNTV:  We kind of got the sense here on FERNTV that this film there was some Nicolas Winding Refn influence?  If not where do you draw your influences from when it comes to Inferno? 
Dionne:  I can't deny that some of the neon soaked atmosphere was influenced by Refn, but the biggest influence on the palette was drawn from Paul Verhoeven's Showgirls, which no one can argue is a beautiful looking film. I also drew a lot of influence from Argento's Three Mother's Trilogy as well as other witchy works like Andrew Fleming's The Craft.
FERNTV:  What was the biggest challenge when putting this film together?
Dionne:   The dressing room scene was definitely the biggest challenge. The cinematographer, Turner Stewart and the camera operator, Martin Calvo, took turns holding a 35 pound camera rig in front of themselves in a hall of mirrors for a 4 minute dialogue scene that was all one take. We did 16 takes. It was an entire day and I love them for it.
FERNTV:  Tell us about the film industry in BC and how is it coming along?
Dionne:  The BC film industry is very busy right now; Turner, Tess, and myself are still in film school for one more semester, but we have recently shot Tess' latest short "Softcore" and Turner and myself are preparing to shoot the beginning of our first feature film "Cyberpunkzz" in December.
FERNTV:  How does it feel to be part of BITS this year?
Dionne:   The entire team is over the moon about being included in BITS 2016. It's such an honor and we're so excited to not only be included in the festival but being slotted at midnight before more great Canadian talent – Ryan LaPlante and his feature Holy Hell. I'm so proud of Inferno and how far it's come and I couldn't be more grateful to the Key Team, Turner Stewart and Tess Paul, the crew, cast, and everyone who has given it a chance. 
www.facebook.com/infernoshortfilmUBC