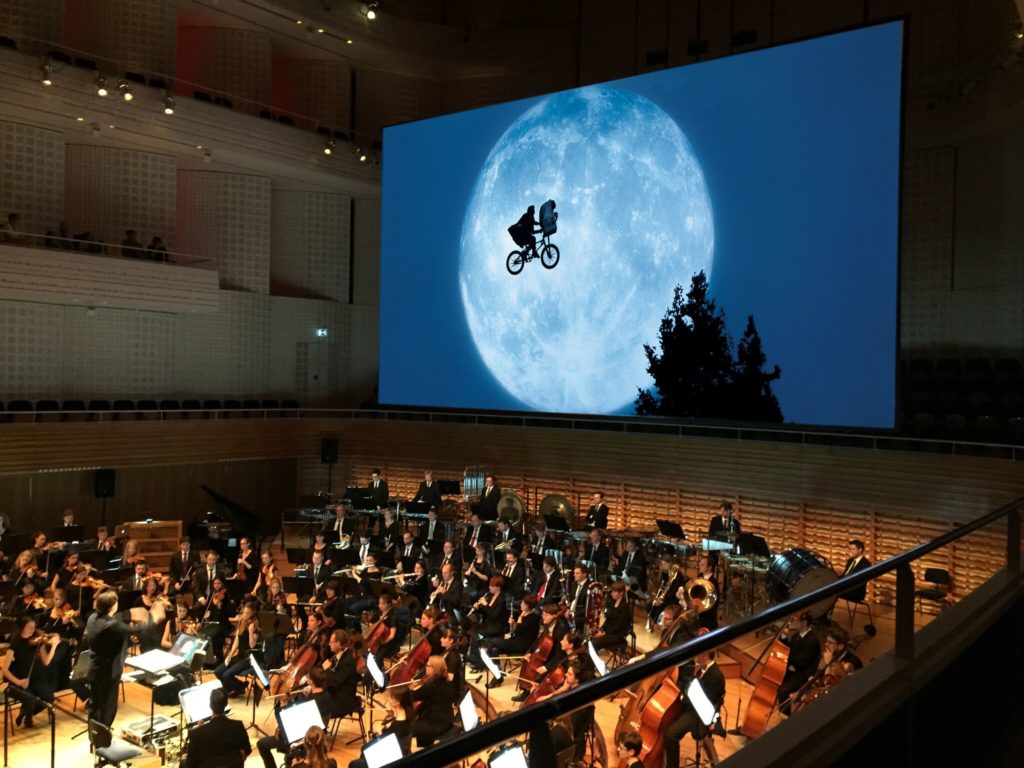 There are not too many chances where you would be able to see the classic film E.T. The Extra Terrestrial on the big screen in any multiplex here in Toronto.  Rarely you would be able to see a full musical orchestra perform the musical score of this epic film from front to back.  Now you will be able to see this magical event of the film E.T. performed with the Sony Centre and Attila Glatz Concert Productions who will take John Williams' musical score right before your very eyes and of course your ears at the Sony Centre in Toronto.  This is an event that the whole family can enjoy during the Christmas holidays which is a once in a lifetime experience.  E.T. The Extra Terrestrial Live in Concert is a truly great way to ring in the New Year with much inspiration.  In addition, all the film buffs out there in Toronto will get to enjoy an In Conversation segment between Richard Crouse and Thom Ernst before the screening.  FERNTV spoke to the CEO of the Sony Centre Mark Hammond to discuss the two magical and historical nights that will take place on Jan. 29th and Jan. 30th.
FERNTV:  Can you tell us the story of how the E.T. Live in Concert was pitched to you and why you accepted this production to take place at the Sony Centre?
Mark:  We have created a Cinematic Concert Series at the Sony Centre, together with Attila Glatz Concert Productions, and when we saw that E.T. was available, we loved the idea of being able to share this with our audiences. We also thought that running this the week after Christmas would provide families and fans (new and originals) the opportunity to spend time together and rediscover this wonderful film. John Williams' score to E.T. is truly masterful; it won just about every award there is to win for a film score, which made it a particularly good film to mount with live orchestra.
FERNTV:  How does it work when it comes to the licensing and or the copyright of the musical score from John Williams and having an orchestra perform the whole score during the screening of E.T.?  Can you briefly describe what needs to take place when it comes to rights before the actual show occurs?
Mark:  You're right that this is not something anyone can just pick up and do—there are understandably very strict rules about the use of the score and music parts, particularly with John Williams' music. The films with live orchestras that Sony Centre and Attila Glatz Concert Productions produce as part of our Cinematic Concert Series have all been licensed and cleared with the creative teams, studios and musical contributors and composers so that when we sign on the dotted line, our job is to find the best orchestra musicians who will bring the score to life, and take care of all the logistics. 
FERNTV:  Can you describe how the music will be different from what we experience when watching the film?
Mark:  The experience is larger than life. I don't know anyone's home theatre that can come anywhere close to the live experience of having the movie projected on a 32 foot screen, dialogue in tact, but with the orchestra parts removed and replaced by a 75-person full symphony orchestra. The conductor will make sure it's exactly in sync with the film, so all those climactic moments will be perfectly aligned, when the film's drama matches so beautifully with the musical drama. The best part of all this is that the Sony Centre, as Canada's largest soft-seat theatre, provides an incredible collective experience for this music: not only concert hall, but an ideal movie theatre experience where the sound is excellent and there isn't a bad seat in the house! Great sightlines and great sound.
FERNTV:  Do you feel when people watch this production, it will give them a sense of how much hard work goes into the actual musical composition of a film such as E.T.?
Mark:  This is a great question. Definitely yes! Nothing can compare to the experience of hearing music live—you can actually SEE the exertion of the musicians coming together to bring John Williams' score to life. His music is not easy! We have hired an excellent orchestra of top players from the city, so it's going to be a thrilling musical experience. Professional orchestral musicians have a skill-set that means they rarely need to take parts home to practice—the rehearsal time is usually enough. But John Williams gets practiced at home! And for good reason; it comes together to really create the drama of the film. Quoting Steven Spielberg, "Without John Williams, bikes don't really fly."
FERNTV:  Tell us what it is like to have conductor Evan Mitchell anchoring this production?
Mark:  Evan Mitchell is an excellent conductor and is sought-after for these movies with live orchestra performances that not just any conductor can conduct. In 2014 he was appointed Music Director of the Kingston Symphony Orchestra, and he is passionate about engaging with younger audiences—a passion we share.
FERNTV:  Do you feel that this production at the Sony Centre could not have come at a better time during the Christmas holidays where families can get together and watch this epic film?
Mark:  You took the words out of my mouth! E.T. is a masterpiece that has captivated audiences for 35 years. Watching the film is an experience that just gets better with age, so it's a perfect occasion to bring families together during the holiday season. It's also a great way to introduce young audiences to live orchestral music.
FERNTV:  What are you looking forward to in those two nights that E.T. will be played?
Mark:  Nothing can beat those final moments in the film. The surge of the music, the fanfare… it's a brilliant moment that I think the whole theatre will be looking forward to!